As the seasons change, temperature monitoring becomes a top priority for organizations across various industries. Whether you're in food and beverage, pharmaceutical, healthcare, or logistics, ensuring your products remain at the right temperature is crucial.
Chill Out with our Exclusive Freeze Alarm Offer – October 2023 only
We want as many people to try the Freeze Alarm as possible, so for the entire month of October, we're excited to offer the Timestrip neo Freeze Alarm at an amazing discount of nearly 60%!
We believe this is the most cost-effective temperature indicator of its kind on the market.
Don't miss out on this fantastic opportunity to experience the benefits of Timestrip neo for your business.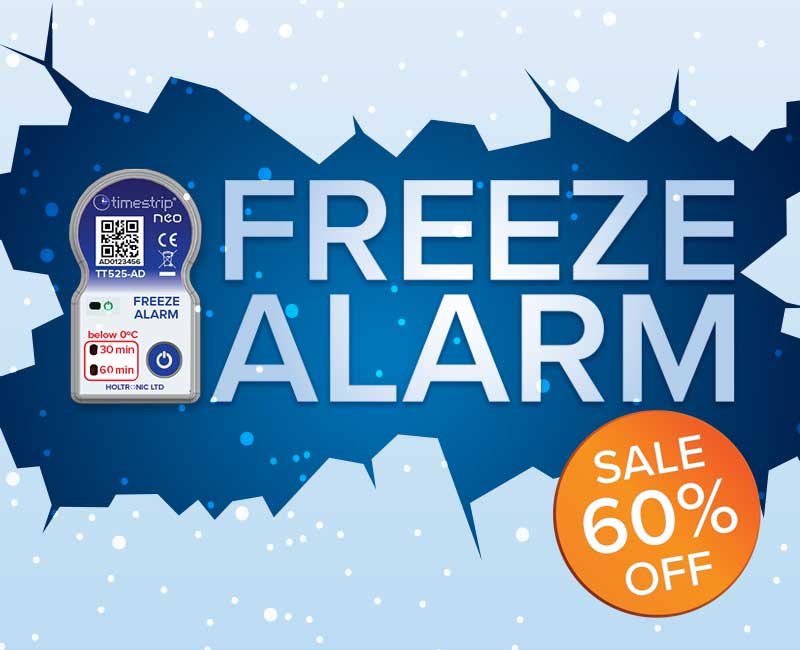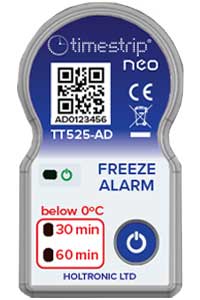 Timestrip neo Freeze Alarm – Your Temperature Guardian!
The Timestrip neo Freeze Alarm is an electronic temperature indicator that provides accurate monitoring and monitors freeze events that occur during shipment.
Get your Freeze Alarm offer today!
In a significant stride towards enhancing its supply chain and ensuring the integrity of 3D printer powder supply, A prominent global technology leader has adopted Timestrip neo indicators as a temperature monitor for shipping.
Global Tech Leader Adopts Timestrip neo for Critical Temperature Monitoring
These cutting-edge indicators have emerged as the preferred choice for real-time temperature monitoring during the shipping process, , safeguarding the consumable's quality throughout its journey..
At the heart of this breakthrough solution are Timestrip's bespoke Timestrip neo TT525 indicators, meticulously designed to offer continuous temperature tracking capabilities. This seamless monitoring mechanism acts as a robust shield, upholding the consumable's optimal quality from the point of origin to its final destination.
What sets this innovative temperature monitoring solution apart is its utilization of irreversible electronic indicators. By employing these indicators, the technology leader underscores its unwavering dedication to delivering products of unparalleled quality.
The integration of Timestrip's neo indicators into the shipping process has resulted in a comprehensive quality assurance framework.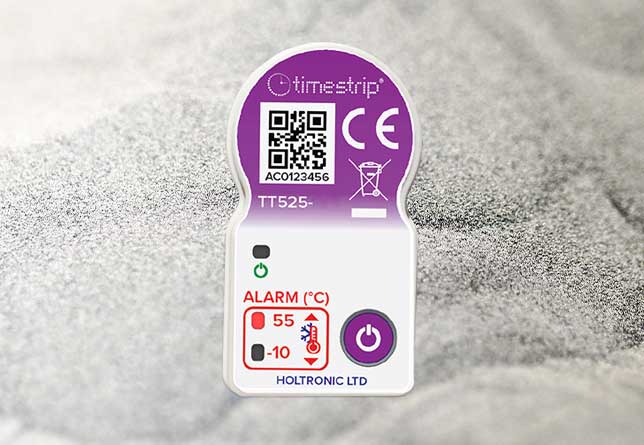 As the 3D printer powder embarks on its expedition to various destinations, the Timestrip neo indicators stand as proof of temperature controlled shipping at every step of the way.
Throughout the journey, these indicators dutifully monitor for deviations in temperature, ensuring transparency and accountability in handling and storage conditions. Timestrip neo indicators will show, via flashing LED lights, when 3D printer powder has been exposed to extreme temperatures in transit.
This invaluable information empowers the end user with confidence, knowing that their 3D printer powder has traversed its voyage under the most favorable conditions.
Read more about 3D printer powder temperature storage and shipping
Timestrip® has developed a completely new electronic indicator technology capable of highly versatile operation at low cost. The Timestrip neo is a platform for a series of single use electronic temperature indicators suitable for pack level monitoring with both time and multiple temperature settings.
The Timestrip neo can be specified in a wide range of temperatures for both ascending and descending alerts, and for different time durations. If any of the set conditions are breached, a system of flashing LEDs provides clear information to the user. A standard configuration is available from stock.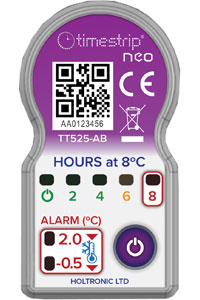 The small form factor of the micro-weight Timestrip neo, and its ease of use, makes it ideal for widespread use on packages in the pharmaceutical, healthcare, food and high value manufacturing sectors.
Time and temperature integration is also supported, so that acceptable time limits are reduced at elevated temperatures, making the Timestrip neo ideal for protecting goods such as perishable foodstuffs that deteriorate faster at higher temperatures.
The unique design provides monitoring at three temperatures, and shows the cumulative time above a specific temperature level. For example, in the standard configuration, a descending temperature that reaches 2⁰C will cause an LED to flash; another LED will light when this drops as low as -0.5⁰C. A third set of LEDs show when the temperature has exceeded 8⁰C for 2, 4, 6 or 8 hours.
A unique serial number is provided on every unit to provide traceability as part of a quality control system.
Timestrip neo technology opens up a new avenue of possibilities for Timestrip. Partnering with electronic design and manufacturing specialists Holtronic Ltd to design the Timestrip neo platform has enabled us to offer a completely new series of products to our clients.

Gabriel McGlynn, Chairman of Timestrip
"The Timestrip neo platform technology is complementary to liquid-based indicators, and offers higher accuracy while maintaining the low cost, small form solutions our customers need", said Nora Murphy, Commercial Director of Holtronic. "The small size and cost effectiveness of Timestrip neo are common benefits across the series of products."
Samples of Timestrip neo are available mid-August, product available from mid-September.
The New Way of Reading Logged Temperature Data
Timestrip® has introduced its first temperature data logger – the TL520. This compact and economical 'micro data logger' provides alerts when temperatures breach set limits, and allows the logged data to be downloaded to an app for investigation and analysis.
Simpler and easier to use than conventional data loggers, the TL520 requires minimal training in use, and can be used at any point in the cold chain.
The TL520 is a single use device providing an immediate irreversible indication of over- and under-temperature conditions using built-in LED lights. Accuracy is quoted as ±0.5ºC over the normal operating range.
A novel feature of the TL520 is that stored data can be sent wirelessly to an accompanying app. for investigation and analysis using built-in NFC technology. No computer is required as the data downloads to any compatible mobile device, and both iOS and Android devices are supported.
The 2-8ºC default settings make the TL520 ideal for monitoring cold chain (refrigerated) temperatures in the storage and transport of sensitive products. Pharmaceuticals, blood, vaccines and food products are typical end use applications.
The new micro logger provides many of the benefits of bulky, traditional data loggers, yet is much simpler to use and is small enough to store with many products during transport and storage

Nora Murphy, Commercial Director of Timestrip
The TL520 is now available from Timestrip and its distributors.
Timestrip smart indicators were used in a study by academics at Reading School of Pharmacy, part of The University of Reading, into people's confidence in the quality of medicines.
The study focused on the potential re-use of returned medicines. It found that participants' intention to take part in medicines re-use increased with the presence of the Timestrip® Plus temperature sensors on the packaging. The perceived social pressure to accept the medication also increased. The effect of the indicators was even greater than the promise of pharmacist visual checking of the medicines.
Although medicines re-use is not at present allowed in the UK, the presence of Timestrip indicators on packaging is understood to be a marker of their quality.
Ref: Lam, Y.; McCrindle, R.; Hui, T.K.L.; Sherratt, S.; Donyai, P. The Effect of Quality Indicators on Beliefs about Medicines Reuse: An Experimental Study. Pharmacy 2021, 9, x. https://doi.org/10.3390/xxxxx. Read more here: https://www.mdpi.com/2226-4787/9/3/128
Timestrip® has introduced new time indicators to support the storage and handling of coronavirus vaccine supplies. These smart single use indicators provide an irreversible alert if the vaccine is stored in refrigerated conditions (2-8°C) for too long after thawing from deep freeze storage.
In an early case example, now that the Pfizer / Biontech vaccine has been approved for UK use, attention has turned to the logistics of supplying it to huge numbers of people. Timestrip indicators can travel with the vaccine supply and withstand the coldest storage temperatures e.g. down to -70°C, yet react when the vaccine consignment is thawed.
From the Timestrip vaccine range, the VRM30 indicator shows the time that vaccines have been held in the chilled 2-8°C range, and has markers for 1, 5 days up to 30 days, making it a suitable solution for the management of many vaccines including from Pfizer, Moderna / J&J and AstraZeneca. VRM30 is designed to compensate automatically for changes in temperature, responding more quickly in warmer conditions.
When the vaccine has been removed from the fridge into room temperature ready to be administered, a VOR12 indicator can be deployed to alert logistics and healthcare professionals that an 8°C threshold has been breached.
It will show the duration for which the vaccine has been Out of Refrigerator, as the indicator window gradually fills. A completely full window indicates that the maximum allowed storage period has been reached, and the vaccine may be compromised.
The eTimestrip range of electronic indicators comprises single use devices that generate a report via a mobile app, and provide detailed information on time and temperature to responsible healthcare staff. This report can be sent for centralised storage, eliminating the need to return the device itself for data analysis.
Conventionally, data loggers can be used in these applications, but the scale of the current challenge means that Timestrip's small, robust indicators are a lower cost, practical solution, while supporting compliance with regulations.
We continue to innovate at a rapid pace to provide cost effective monitoring solutions, considering the efforts of the WHO, FDA and government bodies in their respective countries. Our main objective is supporting healthcare teams as they provide safe care to nations worldwide.

Nora Murphy, Commercial Director
Timestrip®, the developer of smart indicator technology, has released two new ranges designed to be used with the latest coronavirus vaccines now becoming available. The indicators track temperature and time, and will ensure that vaccines are fresh when administered to patients.
The Timestrip Vaccine Thaw Timer is an event thaw indicator with 24 hour time indication calibrated to run at fridge temperatures. It can be packed with vaccines that require storage at -70°C in the ultra-cold chain, and automatically starts monitoring as the vaccine is thawed and transferred to chilled conditions at the hospital or surgery. It then tracks the time from thaw at 6 hours, 12 hours and up to 24 hours, meeting the specifications for use from manufacturers such as Pfizer.
The Timestrip Vaccine Refrigeration Monitor range comprises three indicators. One is designed to indicate the thawing event of the vaccine; another will time 30 days duration in refrigerator conditions (2°C-8°C), helping the user to manage the vaccine manufacturer's guidelines for use.
Then, when the vaccine has been taken from the refrigerator and prepared for use, a third indicator monitors how long it has been exposed to temperatures above 8°C, typically at room temperature. The time 'run out' for the Vaccine Refrigeration Monitor VOR12 (Vaccine Out of Refrigerator) is up to 12 hours, with shorter times to an alert being seen at higher temperatures.
These Vaccine Refrigeration Monitor products will help overcome challenges in the handling of COVID-19 vaccines up to the point of administering, and are designed to support the manufacturers' specification for the handling of vaccines such as those from Moderna.
Both indicators provide a clear irreversible indication to healthcare staff that conditions of storage and handling have exceeded acceptable conditions, and that the vaccine consignment cannot be relied upon.
Based on safe chemical technology, both the Vaccine Thaw Timer and Vaccine Refrigeration Monitor range overcome the limitations of batteries used at ultra-low temperatures.
We continue to innovate our patented technology to bring the benefits to important applications such as vaccine distribution, supply and last mile handling. Using these indicators, healthcare professionals worldwide can be supported cost effectively, and guided through soon to be routine practices of handling and managing these vital resources.

Nora Murphy, Commercial Director of Timestrip.
Timestrip has recently added other products to its range in response to coronavirus. These include an indicator to monitor antiviral solutions, and Rapid Diagnostics 15, a 15 minute timer indicator for use with rapid turnaround lateral flow test kits.
Timestrip has a new white paper detailing the importance of monitoring time and temperature parameters during storing and transporting to point of care
For more information on how Timestrip UK Ltd is handling the COVID-19 pandemic, please see this post.
Timestrip®, the developer of smart indicator technology, has developed an important new range of indicators to help healthcare professionals meet WHO guidelines in the handling of virus specimens.
The Timestrip Virus Specimen Transport (VST) series has been specially formulated to provide a clear indication when key temperature levels are exceeded.
These indicators monitor when specimens - including coronavirus – have been stored for too long and outside the required temperature range for reliable testing.
Four products make up the VST range.
Together they form an essential tool to support hospitals, surgeries and medical laboratories in storing and transporting virus specimens correctly, and preserving their integrity.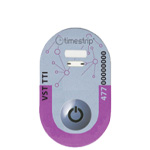 A virus specimen's exposure to temperature over time is critical to its lifetime, so the VST series includes a unique integrating indicator, the Timestrip VST TTI, which mirrors the accumulated time-temperature history of the virus specimen during transport and storage.
Virology specimen collection guidelines state that most viruses remain stable at 4°C for 2-3 days, so VST TTI is effective with a wide range of virus types.
Designed to meet specific regulations, the TTI label will indicate when 72 hours of chilled storage has elapsed by showing a clear visual discard window. At high temperatures, the label will show the discard indication within just a few hours.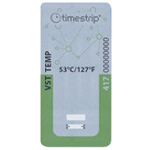 Scientists and clinicians know that bacteria and viruses deteriorate much more quickly as temperatures increase, and also as exposure time increases. For example, at 50-55°C, coronavirus becomes non-infectious within just a few hours.
The VST range of indicators includes a product specifically for monitoring temperatures exceeding 53°C.
FDA and WHO regulations state that it is important to avoid freezing and thawing of specimens.
The Timestrip VST 0°C will reliably track a thawing event. If the ambient temperature rises above freezing, the indicator will show the cumulative period of thawing.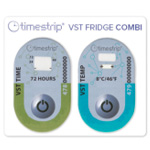 Timestrip VST Fridge Combi includes two indicators. One unique element indicates when a period of 72 hours has passed during chilled conditions (2-8°C), aligning with FDA / WHO regulations.
The other element provides a temperature breach indication, giving a clear signal when conditions have exceeded the regulated upper chilled limit of 8°C/46°F during storage or transport.
"As part of the fight against coronavirus, our new VST virus specimen transport range will help support scientists by monitoring specimens from collection right through to point of test, giving confidence in the integrity of the specimen, and thus the test results.

These simple yet effective products provide a solution to a real problem in the storage and handling of virus specimens, including Covid-19. Medics and laboratory technicians can now have an explicit signal when specimens have breached the safe zone of thermal exposure and are invalid for testing."

Nora Murphy, Commercial Director of Timestrip UK Ltd
The VST is expected to be the first of many speciality ranges to be offered by Timestrip that provide practical solutions for pathology, microbiology, mycobacteria and other laboratory specimen handling, where temperature and time monitoring are required.
The new Virus Specimen Transport products are available now from Timestrip.

for release 11th June 2020
Whether in a major teaching hospital, a walk-in clinic or a doctor's surgery, any type of healthcare boils down to two broad objectives: improved patient outcomes and the best possible use of resources.
Although historically reconciling patient health and the harsh realities of budgetary constraints have at times led to difficult choices, the fact is that by integrating technology and innovation into decision making around resource allocation, both objectives can be achieved at the same time.
Indeed, thanks to its high tech / low cost Time and Temperature Indicator labels, Timestrip® is able to provide healthcare providers and the pharmaceutical sector with a broad range of practical, user-friendly solutions that:
✔ Ensure product quality
✔ Reduce product waste
✔ Ensure regulatory compliance
✔ Reduce time and temperature monitoring costs
But what does this look like in practice?
Improving quality control and efficiency
Tenet Healthcare is US healthcare provider that faced the challenge of needing to effectively manage how it processed bags of whole blood. On the one hand, it faced the need to comply with local regulatory requirements related to the use of effective temperature monitoring for blood products; and on the other, it had to discard any bag of blood that had been exposed to a temperature above 10°C for more than 30 minutes.
The company needed to be absolutely certain that any unused bag of whole blood was 100% safe to be returned to storage for future use. It had also noted ongoing difficulties in using other blood temperature indicators. Potentially, the latter could lead to doubts about product safety, which in turn would require that bag of blood to be discarded, possibly unnecessarily.
Its use of Timestrip® Blood Temp 10 – 10°C Blood Irreversible Transit Temperature Indicator noted the following advantages:
✔ Improved quality of care
✔ Improved workflow efficiency
✔ Maintenance of quality control during transportation and storage
✔ Support in complying with regulatory guidelines
Cost-effective regulatory compliance
Marathon Distributors is a pharmaceutical and healthcare logistics services provider in Cyprus and is involved in the distribution of pharmaceutical products throughout the island. The main cold chain management issue it faced was around compliance with local and EU regulations, specifically the country's Law on Human Pharmaceuticals 70(I) 2001 and the EU guidelines on Good Distribution & Manufacturing Practices. These mandated the company to ensure that the pharmaceuticals it delivered were not exposed to a temperature above 8°C for more than 8 hours during transportation.
Although other products helped achieve regulatory compliance, the company began using Timestrip® PLUS™ 8°C 8 Hrs (TP065) Irreversible Time and Temperature Indicators because they were much more competitively priced.
Overall the company reported:
✔ Timestrip Indicators were 50% cheaper
✔ Delivery costs were 50% lower
✔ Delivery times were faster
✔ Positive end-user feedback around ease of use
Easy temperature monitoring for vaccine transport
Cambridgeshire Community Service NHS Trust is a UK healthcare provider in south-east England. Part of its work is the delivery of school-age immunisations to schools in its area. This includes for instance flu nasal immunisations for primary schools and HPV vaccinations and Meningitis ACWY and TdIPV for secondary schools.
For the delivery of vaccines, electric Labcold Portable Vaccine Carriers and pharmaceutical-grade vaccine carriers are used. In order to maintain the efficacy of the various transported vaccines, two different temperature ranges need to be managed: 2°C to 8°C and -25°C to 25°C.
In order to ensure the delivery of viable, unspoiled vaccines, the Trust thus had a requirement for a dual, low-cost solution for use by its delivery teams.
To achieve this, two Timestrip products have been used in each vaccine carrier:
● a Timestrip® PLUS (TP 065) to indicate if the temperature went above 8°C
● a Timestrip® PLUS (TP 217) to indicate if the temperature exceeded 25°C, and if so, for how long
The feedback from the delivery teams has been extremely positive, specifically around:
✔ Easy to read visual data
✔ Ease of use
✔ Reliability
Reliable test kit time data
Clinical Innovations is a US maker of obstetrics devices that wanted to develop a non-invasive test kit for the diagnosis of any rupture of membranes (ROM). Although treatable, spontaneous ROM is a serious medical condition and a major cause of preterm births. Thus, an accurate diagnosis of ROM can be a key factor in determining timely and appropriate medical intervention. Similarly, a false diagnosis of ROM can lead to unnecessary hospitalisation, medication and even induced premature delivery.
Timestrip was able to provide Clinical Innovations with Time Indicators for its ROM Plus® self-contained test kit. These give clinicians the essential and immediate data they need to reduce the dangers of any premature ROM for expectant mothers and their babies.
The test kit uses Timestrip technology with an in-built 20-minute time monitoring indicator that generates the required data within 5-20 minutes, with 5,10 and 20 minutes clearly indicated on the Timestrip. Its key benefits are:
✔ Clear visual data
✔ Ease of use
✔ Improved health outcomes
Hygienic healthcare environment
Beyond pharmaceuticals and blood products, healthcare also involves various types of disposable items that need replacing regularly. Especially for the sick, hygiene in the clinical environment is an essential aspect of patients being able to make a full recovery. Timestrip indicators make excellent cleaning reminders for surfaces, filters and instruments.
Assuming the absence of any complications, catheters for instance need to be replaced every 30 days for Foley catheters and every 60-90 days for silicone catheters. Catheter bags however need to be replaced every 5-7 days. If these items are not replaced at appropriate intervals, opportunities are created for harmful pathogens to develop.
Unsurprisingly, this has also been shown to be the case for hospital privacy curtains. Dr Kevin Shek was the lead study author into the rate of contamination of hospital privacy curtains in a burns/plastic ward. In a report about the study findings in Nursing Times, he said:
"We know that privacy curtains pose a high risk for cross-contamination because they are frequently touched but infrequently changed. The high rate of contamination that we saw by the fourteenth day may represent an opportune time to intervene, either by cleaning or replacing the curtains."
Especially in busy hospital departments such as Accident & Emergency and ICU, hospital privacy curtains can quickly become contaminated with bacteria such as methicillin-resistant S. aureus (MRSA) and Clostridium difficile (C. diff). Thanks to Timestrip® Time Monitoring Indicator panels that change color after a set period of time, clinical staff are alerted when a privacy curtain needs to be changed. They help a hospital achieve:
✔ Best use of resources with a low-cost solution
✔ Compliance with guidelines around frequency of change
✔ Less time needed to monitor when that change needs to occur
✔ Hygienically clean hospital environment for patients