Timestrip Stocks New Freeze Alert Indicator
Timestrip® has added to its recently announced neo platform with two new stocked products.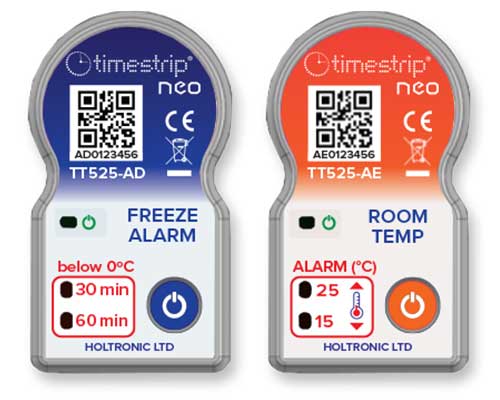 The Freeze Alarm is designed for products that are sensitive to freezing, and provides a visible freeze alert if the ambient temperature drops below 0ºC for 30 minutes; it shows a further alert at 60 minutes.
The Room Temp indicator monitors the range 15 to 25ºC, and alerts at one hour.
The two new indicators complement the first Timestrip neo product, the Fridge Alarm, which reacts at three temperatures and five time intervals.
All the products check temperatures around twice a minute, and are expected to be popular in healthcare applications including vaccines and pharmaceuticals, as well as foodstuffs, paint, adhesives and chemicals. Serial numbers on every product provide for traceability in quality control systems.
Timestrip neo is the latest platform for a range of single use electronic temperature and time indicators that provide highly versatile operation at low cost. More accurate than liquid indicators, the electronic indicators have been specially developed to combine ease of use with a very small and light form factor. All Timestrip neo indicators are suitable for pack level monitoring with both time and multiple temperature settings.
"The Timestrip neo platform technology can cover a very wide range of user needs. We have anticipated three of the most common applications with the Fridge Alarm and now the Freeze Alarm and Room Temperature indicators and will hold them in stock for rapid despatch."

Gabriel McGlynn, Chairman of Timestrip.
Other configurations of time and temperature are available to order for quantities as low as 20,000 units. Contact us today for more information.