In the dynamic field of healthcare, accurate temperature monitoring plays a crucial role in ensuring patient safety, maintaining quality control, and safeguarding the integrity of temperature-sensitive products.
As technology continues to advance, innovative solutions like thermometer recorders, temperature monitoring devices, and disposable temperature indicators have emerged, revolutionizing the way temperature is monitored and managed in healthcare settings.
Thermometer Recorders: Unleashing Precision and Efficiency
Thermometer recorders have emerged as invaluable tools in healthcare facilities. These devices go beyond traditional thermometers by providing continuous temperature monitoring and recording capabilities. With precise sensors and built-in memory, thermometer recorders offer real-time temperature tracking and generate comprehensive data logs for analysis and audit purposes.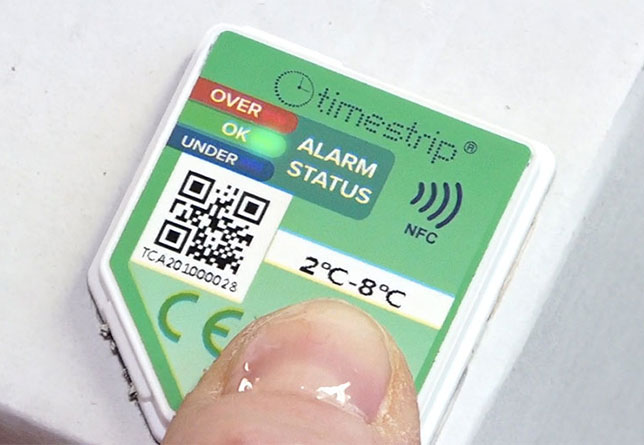 Timestrip's Electronic Timestrip Complete are a compact device that uses near-field communication (NFC), so that users with a smartphone can download data from the device to PDF or Excel files, providing auditable evidence of temperature breaches.
Both Android and Apple devices from iPhone 7 onwards are now supported. The detailed data report includes a record of the number of times the limit has been exceeded, the total time limit exceeded and alarm status.
Healthcare professionals can benefit greatly from the utilization of thermometer recorders. From monitoring the temperature of vaccine storage units, blood banks, and pharmaceutical refrigerators to ensuring optimal temperature conditions during surgical procedures, these devices enhance efficiency and accuracy.
The ability to record temperature fluctuations in real-time enables timely interventions, reducing the risk of spoilage, contamination, and compromised patient safety.
In hospitals and clinics, temperature monitoring devices such as Timestrip's liquid-based indicators provide real-time updates on temperature conditions and are a more practical alternative to traditional methods, such as frequent manual measurements, contributing to efficiency and overall experience.
Disposable Temperature Indicators: Ensuring Product Integrity
Disposable temperature indicators have emerged as game-changers in maintaining the integrity of temperature-sensitive products. Designed as single-use devices, these indicators provide a visual indication of temperature excursions during storage and transportation. They are particularly valuable for ensuring the quality and efficacy of pharmaceuticals, vaccines, and blood products.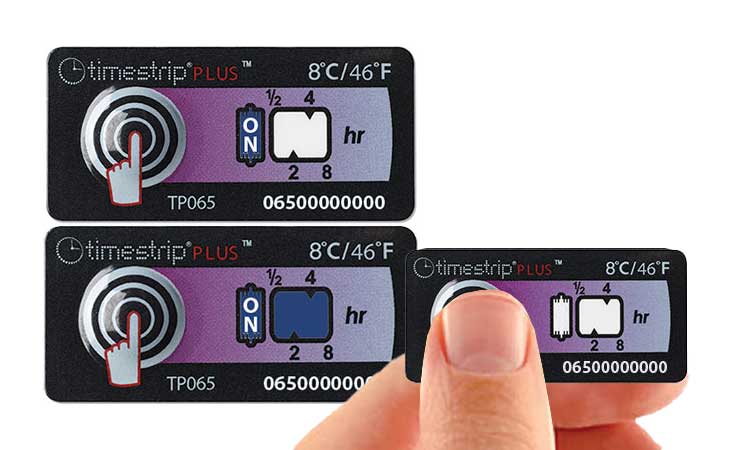 Timestrip's liquid-based indicators incorporate irreversible chemical reactions, disposable temperature indicators change colour or display clear alerts when exposed to critical temperature thresholds. This allows healthcare professionals to quickly identify instances of temperature abuse, ensuring that products are not administered or used beyond their safe limits.
The ease of use and cost-effectiveness of these indicators make them accessible and practical for various healthcare settings, from hospitals to pharmacies and ambulatory care centres.
Conclusion:
As the healthcare industry continues to advance, the integration of innovative technologies such as thermometer recorders, temperature monitoring devices, and disposable temperature indicators is transforming temperature monitoring practices. These advancements contribute to improved patient safety, enhanced quality control, and increased efficiency in healthcare operations.
Thermometer recorders enable precise and continuous temperature monitoring, facilitating timely interventions and reducing the risk of spoilage. Temperature monitoring devices provide real-time alerts, enabling prompt action where required. Disposable temperature indicators ensure product integrity, helping healthcare professionals identify temperature excursions and prevent the use of compromised products.
With these cutting-edge solutions, healthcare facilities can elevate their temperature monitoring practices, ensuring optimal conditions for patients, medications, and other temperature-sensitive products.
The widespread adoption of thermometer recorders, temperature monitoring devices, and disposable temperature indicators marks a new era in healthcare, where temperature control is more accurate, reliable, and efficient than ever before.