Customise Timestrip neo

Why Timestrip neo?

We understand the critical nature of temperature sensitive products. Timestrip neo is designed with unparalleled accuracy, reliability and peace of mind.

Contact us

Experience a new era in temperature monitoring with Timestrip neo, the versatile, go-anywhere electronic indicator for the widest range of applications. The unique Timestrip neo combines the small form, low cost and ease of use of liquid-based temperature indicator labels with the higher accuracy of electronic monitors.

Neo has been designed from the ground up for maximum versatility. As well as the standard variants, a wide spectrum of time and temperature levels can be specified.
Custom time and temperature monitoring

Up to six temperature alarm thresholds: from -30ºC to +60ºC

Up to five time intervals can be set, so you know how long your product has been subject to 'out of spec' conditions
Time and temperature integration (TTI) means alerts can be triggered sooner at higher temperatures

Custom branding presents your brand and products in the best possible light and inspires customer confidence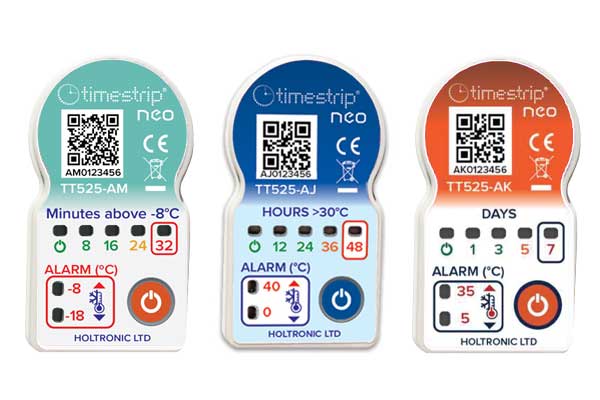 Unique temperature monitoring technology

Timestrip neo indicators are single use devices, powered by an included micro-battery that provides long shelf life and operating time. Using the indicators couldn't be simpler, with simple push-to-start operation and clear irreversible LED indicators, making them suitable for all levels from personnel to end users.

Empowered decision making for temperature monitored shipments

Timestrip neo empowers you with real-time temperature tracking and to alert you to any breaches in expected temperature conditions. You can be assured if your goods remained in optimal conditions throughout their entire journey and storage.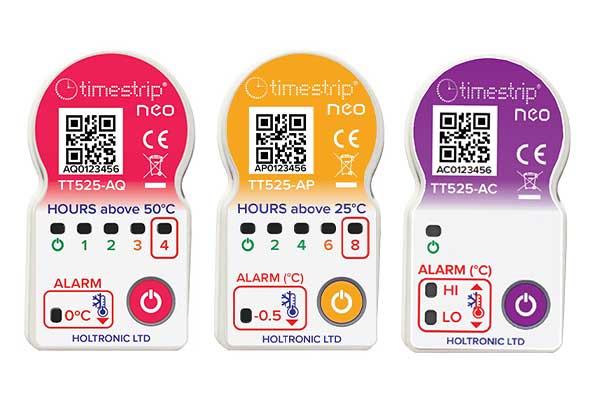 Explore Timestrip neo today

Our stock Timestrip neo covers 3 important ranges of cold chain temperatures. If you don't see the range you need, we can customise Timestrip neo to your exact specifications. Contact us with your special requirements and revolutionize your temperature monitoring capabilities.
Want to learn more?

Please fill out this form to find out how TImestrip neo can help you monitor multiple temperature excursions, request more information, or order.

Custom Timestrip neo Documentation

Standard Timestrip neo Specifications

Single use, nonreversible

22.6mm x 42.3mm x 5.6mm ; 6g

Hold button for 3.5 seconds
Timestrip neo FAQs

Stock Timestrip neo irreversible temperature indicators