Ali Daneshkhah, Sravya Prabhala et al at the Department of Biomedical Engineering, Northwestern University, Evanston, IL, USA have developed a new method - AI-enhanced optical nanosensing - of detecting changes in cells that might lead to an improved ability to diagnose lung cancer.
As published in Scientific Reports on Nature.com, their methodology included shipping oral samples that were sent by airplane and ground transport. These samples reached the lab within 24 hours of being collected. The samples had to be kept cold during transportation, below 10 °C, using a special kit.
The transportation kit included Timestrip temperature indicators to make sure the samples had stayed at the right temperature.
Timestrip temperature and time indicators can form a valuable part of rigorous quality procedures in many application sectors in healthcare.
---------
Ref: Daneshkhah, A., Prabhala, S., Viswanathan, P. et al. Early detection of lung cancer using artificial intelligence-enhanced optical nanosensing of chromatin alterations in field carcinogenesis. Sci Rep 13, 13702 (2023).
https://doi.org/10.1038/s41598-023-40550-6
Timestrip®, the developer of smart indicator technology, has released two new ranges designed to be used with the latest coronavirus vaccines now becoming available. The indicators track temperature and time, and will ensure that vaccines are fresh when administered to patients.
The Timestrip Vaccine Thaw Timer is an event thaw indicator with 24 hour time indication calibrated to run at fridge temperatures. It can be packed with vaccines that require storage at -70°C in the ultra-cold chain, and automatically starts monitoring as the vaccine is thawed and transferred to chilled conditions at the hospital or surgery. It then tracks the time from thaw at 6 hours, 12 hours and up to 24 hours, meeting the specifications for use from manufacturers such as Pfizer.
The Timestrip Vaccine Refrigeration Monitor range comprises three indicators. One is designed to indicate the thawing event of the vaccine; another will time 30 days duration in refrigerator conditions (2°C-8°C), helping the user to manage the vaccine manufacturer's guidelines for use.
Then, when the vaccine has been taken from the refrigerator and prepared for use, a third indicator monitors how long it has been exposed to temperatures above 8°C, typically at room temperature. The time 'run out' for the Vaccine Refrigeration Monitor VOR12 (Vaccine Out of Refrigerator) is up to 12 hours, with shorter times to an alert being seen at higher temperatures.
These Vaccine Refrigeration Monitor products will help overcome challenges in the handling of COVID-19 vaccines up to the point of administering, and are designed to support the manufacturers' specification for the handling of vaccines such as those from Moderna.
Both indicators provide a clear irreversible indication to healthcare staff that conditions of storage and handling have exceeded acceptable conditions, and that the vaccine consignment cannot be relied upon.
Based on safe chemical technology, both the Vaccine Thaw Timer and Vaccine Refrigeration Monitor range overcome the limitations of batteries used at ultra-low temperatures.
We continue to innovate our patented technology to bring the benefits to important applications such as vaccine distribution, supply and last mile handling. Using these indicators, healthcare professionals worldwide can be supported cost effectively, and guided through soon to be routine practices of handling and managing these vital resources.

Nora Murphy, Commercial Director of Timestrip.
Timestrip has recently added other products to its range in response to coronavirus. These include an indicator to monitor antiviral solutions, and Rapid Diagnostics 15, a 15 minute timer indicator for use with rapid turnaround lateral flow test kits.
Timestrip®, the developer of smart indicator technology, has developed an important new range of indicators to help healthcare professionals meet WHO guidelines in the handling of virus specimens.
The Timestrip Virus Specimen Transport (VST) series has been specially formulated to provide a clear indication when key temperature levels are exceeded.
These indicators monitor when specimens - including coronavirus – have been stored for too long and outside the required temperature range for reliable testing.
Four products make up the VST range.
Together they form an essential tool to support hospitals, surgeries and medical laboratories in storing and transporting virus specimens correctly, and preserving their integrity.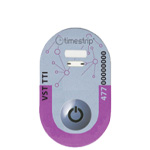 A virus specimen's exposure to temperature over time is critical to its lifetime, so the VST series includes a unique integrating indicator, the Timestrip VST TTI, which mirrors the accumulated time-temperature history of the virus specimen during transport and storage.
Virology specimen collection guidelines state that most viruses remain stable at 4°C for 2-3 days, so VST TTI is effective with a wide range of virus types.
Designed to meet specific regulations, the TTI label will indicate when 72 hours of chilled storage has elapsed by showing a clear visual discard window. At high temperatures, the label will show the discard indication within just a few hours.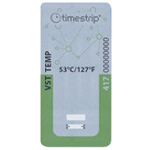 Scientists and clinicians know that bacteria and viruses deteriorate much more quickly as temperatures increase, and also as exposure time increases. For example, at 50-55°C, coronavirus becomes non-infectious within just a few hours.
The VST range of indicators includes a product specifically for monitoring temperatures exceeding 53°C.
FDA and WHO regulations state that it is important to avoid freezing and thawing of specimens.
The Timestrip VST 0°C will reliably track a thawing event. If the ambient temperature rises above freezing, the indicator will show the cumulative period of thawing.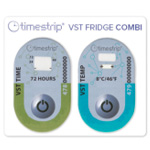 Timestrip VST Fridge Combi includes two indicators. One unique element indicates when a period of 72 hours has passed during chilled conditions (2-8°C), aligning with FDA / WHO regulations.
The other element provides a temperature breach indication, giving a clear signal when conditions have exceeded the regulated upper chilled limit of 8°C/46°F during storage or transport.
"As part of the fight against coronavirus, our new VST virus specimen transport range will help support scientists by monitoring specimens from collection right through to point of test, giving confidence in the integrity of the specimen, and thus the test results.

These simple yet effective products provide a solution to a real problem in the storage and handling of virus specimens, including Covid-19. Medics and laboratory technicians can now have an explicit signal when specimens have breached the safe zone of thermal exposure and are invalid for testing."

Nora Murphy, Commercial Director of Timestrip UK Ltd
The VST is expected to be the first of many speciality ranges to be offered by Timestrip that provide practical solutions for pathology, microbiology, mycobacteria and other laboratory specimen handling, where temperature and time monitoring are required.
The new Virus Specimen Transport products are available now from Timestrip.

for release 11th June 2020
An FDA-approved Irreversible Time and Temperature Indicator that ensures that only viable whole blood supplies are used post-transit
The high tech, low cost alternative to electronic dataloggers
Delivery of unambiguous safety data
FDA approved
Ease of use
Lower costs
Less wastage
Low carbon footprint
A critical issue for medical professionals is ensuring the viability of blood supplies once they leave the highly controlled storage environment, such as a blood bank refrigerator or a hospital blood storage facility. This aspect of the so-called blood cold chain is essential for ensuring that these are kept at the correct temperature right up to the time they are administered by trauma units, ERs, operating theatre staff, air/ ground ambulances, and any other situation requiring blood to be transported from storage units out to patients.
During transit, whole blood needs to be kept within a temperature range of 2°C/36OF to 10°C/50°F. Below this range, there is a risk of freezing with the formation of ice crystals, rendering the blood unusable, while upper temperature breaches create the possibility of blood being affected by an overgrowth of non-specific bacteria, which may have entered the blood unit during collection or component preparation.
Both these situations have serious consequences: the cost implications of a wasted product and/or more seriously, a patient that is put at risk.
To address these issues, Timestrip® has developed its single-use Blood Temp 10 – a high-tech, low cost Irreversible Time & Temperature Indicator that effectively monitors temperature breaches above 10°C/50°F during transit.

No more guesswork
Thanks to its innovative technology, Timestrip® Blood Temp 10 removes this uncertainty by providing clear, unambiguous data as to whether a supply of whole blood is safe to use or be returned to storage.
This is achieved thanks to the smart label's two indicator windows:
• the first window to indicate if the label has been activated
• the second to indicate if a temperature breach has occurred
Thus, at a glance, medical staff know if a supply of whole blood is not only safe to use post-transit. The smart label also ensures a higher level of quality of the product is delivered by monitoring of temperature throughout transit.
Moreover, thanks to its irreversible feature, once the smart label has reacted to a temperature breach, this cannot be undone. For security reasons, the colour of the label's indicator window stays permanently changed.
FDA approved … and more
Timestrip® Blood Temp 10 has FDA certification (FDA 510(k) #BK190363) and is manufactured with controls established by a IQC approved quality management system that conforms with ISO 9001:2015 and ISO 13485:2016.
With a temperature accuracy of +/- 0.5°C, this means that the Timestrip® label is designed with reliable and, more importantly, trustworthy technology as assessed by some of the world's most stringent criteria. Moreover, extra security is assured by every Timestrip® label having its own unique serial number, thus ensuring full traceability.
Checking this list of features brings further benefits to healthcare providers involved in the transportation of whole blood by also ticking the box for local and internal regulatory compliance.

Cost savings
Because Timestrip® Blood Temp 10 ensures that only viable blood supplies are either administered post-transit, or returned to storage, the possibility of precautionary disposal is eliminated. This reduction in waste can have significant cost benefits.
In fact, studies have shown that loss rates without a Timestrip® are around 5%. These are halved with its use. In fact, reducing a loss rate by 9.9% pays for the total investment and a conservative 19.8% reduction doubles the ROI.
The generation of similar positive temperature monitoring outcomes are possible using other products, such as electronic devices. These, however, are far costlier.
Ease of use
Apart from delivering clear, unambiguous data as to whether post-transit a unit of whole blood may be used or returned to storage thanks its innovative indicator windows, the Timestrip® Blood Temp 10 is also remarkably easy to use.
In fact, unlike other whole blood temperature monitoring solutions on the market, Timestrip® Blood Temp 10 is a unique FDA 510(k) medical device that does not require preconditioning. Moreover, it is also CE approved and designed for:
• quick and easy application
• no prior conditioning by blood storage staff
• temperature breach data delivered at a glance by medical field personnel.
Prior to the transit of a unit of whole blood, a simple squeeze of the label's activation blister is all that is required for temperature monitoring of a unit of whole blood to begin. Then the label just needs to stuck on the unit.
Squeeze, peel and stick – that's it!
And the end of transit, Timestrip® technology has also been designed for maximum ease of use:
• until activation, the first indicator window is yellow and the second is white
• upon activation, the first indicator window turns green
• if a temperature breach has occurred during transit, the duration of the breach is indicated by the second white indicator window that proportionately fills up with blue dye
Product Specifications
10°C/50°F monitoring
Irreversible, single use
19mm x 32mm
Field activation
Visual proof of temperature exposure
Advantages over electronic dataloggers
Beyond being less expensive, Timestrip® Blood Temp 10 does not involve a datalogger's complicated and sometimes cumbersome unit return program that is necessary to make it more affordable. The smart label's single use indicator makes it the ideal fit for simple, straightforward and effective temperature monitoring.
The Timestrip® also is a super convenient shape: small, flat, with no batteries or any other electronic components to them.
For green credentials, the Timestrip® also outstrips traditional dataloggers in terms of carbon footprint, because the latter eventually needs to be either be thrown away or sent back to source to justify the expenditure.
Lastly, the Timestrip® has the potential of generating more accurate safety data. Indeed, because a container of units of whole blood will tend to use just a single datalogger, inevitably the temperature of ambient air within the container is taken into account, potentially generating less than accurate safety data.
With Timestrip® labels however, every single unit has its own temperature indicator. This means that the possibility of rejecting an entire shipment based on a single result is eliminated.
Using a Chemical Time and Temperature Label
There are many ways to measure temperature change and for recording how long a temperature-controlled substance, material, or chemical compound, is maintained outside of its normal required temperature limits for stability, or future use. Time Out is not a new term, or monitoring application, but it is a complex one and certainly needed. The most common is for Pre-Preg and Carbon Fiber materials that must be maintained within strict temperature guidelines for flexibility and strength requirements, plus many Chemical compounds and liquid API's (Active Pharmaceutical Ingredients). These strict limits also apply to certain bio-logics and vaccines that can only be "out-of-environment" for short periods of time whilst they are being worked with, formulated, or packaged.
These tracking solutions range from RFID tracking and monitoring with expensive tags and readers to complex solution software applications that read and record these expensive electronic devices, attached to the item being monitored, as these pass in and out of the safe temperature zones.
On the low-end monitoring is done by timers with alarms and some form of temperature recorder to show the temperature limits that the materials were exposed to. Combine both elements and you get a Time and Temperature limit that the materials were within showing how long this was for.
But in some applications, simplicity may be a better solution like – a time and temperature breach indicator label, instead of reading separate items and manually recording these for record purposes.
Timestrip Plus labels and Run Timer Labels are used for many applications ranging from monitoring event times related to an expiration of effect use life to monitoring vaccine and bio' shipments as these pass through a logistics operation, or down the cold chain supply chain. However, if you take a Timestrip Plus label that contains a time element and a temperature limit indicator for an excursion, or the work environment temperature, you have a truly unique and simple way of measuring TOTCE!
The advantage that these labels offer is quite simple by the fact that once the label is outside of its "strike" temperature the chemical will flow down the time indicator scale to show how long the label is outside of the lower product stability-controlled temperature environment. When the material or chemical substance with the label attached is returned to the temperature-controlled environment the chemical will stop flowing and only now show the "Out-Time". If this item is taken in and out many times the label will begin to form a total aggregated TOTCE as the chemical flows and stops each time it moves in and out of the two environments.
A record of each individual "Out-Time" can be captured by taking a photo with a Smart Phone which will show the time and date that it was taken, and this can be stored as a permanent record linked to the serial number on the label itself that will be clearly seen in the photograph.
Sometimes simple is the best approach based upon the old adage of the "KISS" philosophy, so contact Timestrip today if you want to find out more about this TOTCE solution offering.
The big word in the logistics and supply chain "world" is RISK, and a risk assessment being performed, or at least having a mitigation plan in place, is becoming part of many certification requirements, like ISO 9001, and other pending or recently introduced federal regulations.
It will be no surprise, I am sure, when I mention certain facts like – "Where humans are involved in a process there will be errors, and 90% plus of all supply chain errors are human errors"; but how do you avoid these?
Firstly, let me say there will always be Risk not only in the common elements of the supply chain but also and especially with the way that you handle any cold chain or temperature-controlled products.
So how do you manage these risks?
There are 4 common and accepted ways that Risk can be managed, or mitigated:
Risk Avoidance: Changes made to your processes and players that ensures risks are no longer an issue.
Risk Mitigation: Reduce the severity of the loss or prevent the likelihood of the risk from occurring.
Risk Acceptance: Avoidance of a potential risk area is not possible or economically feasible, so it is acceptable and will not impact your business.
Risk Deflection: After the risk has been identified and quantified, transfer that risk to the control of another player or partner in the process – maybe add it as a clause to be addressed in a vendor contract.
So how do you establish a Risk Mitigation Plan?
Review and audit your supply chain to assess where risk does, or may exist
Assess what the impact of these risks may be and create a list with the highest probability items at the top to address first
Define your risk mitigation strategies for the highest-level items and work down the list from High to Low
Implement the strategies and document them.
What else should I do, or know?
Even though your Risk Management plan includes good SOP's and WI's make sure that people are adequately trained in these disciplines
Conduct self-audits regularly
The cost of a Cold Chain Monitoring device or solution, is far less expensive than the cost of disposal of a temperature compromised shipment
All Quality Systems and Risk Aversion Plans should have one over-arching goal – Quality of Product and Consumer Safety!!!!
At Timestrip we are acutely aware of all kinds of risks that can exist in all kinds of supply chains from Pharmaceutical to Food and even beyond to special chemicals and laboratory testing time lines.
For a full range of our products please visit our products page
What is Timestrip Complete?
Timestrip Complete is our product that monitors upper and lower threshold temperature breaches, such as 2°-8°C cold chain monitoring for vaccine storage and transport.
The product is in fact made up of two elements: a Timestrip Plus, which is our ascending indicator that measures, for example temperature breaches above 8°C and the amount of time that they have breached, and a descending temperature indicator called Freeze Check Plus FCP for short that logs breaches, for example, below 2°C.
This is why we've called the indicator "Timestrip Complete": It provides complete monitoring for the 2°-8°C cold chain.
Why was Timestrip Complete developed for vaccine storage and transport?
A vaccine is affected by heat and by freezing and the two critical temperature thresholds for storage and transport are 2°C and 8°C.
It's time and temperature that's the critical factor leading to degradation of vaccines.
For freezing, the crucial event is whether this has happened or not. Because vaccines are contained in an aqueous solution (water), when it freezes, it expands and the resulting crystallization can destroy the vaccine
How much does a Timestrip Complete cost?
Under US $4 per unit, and considerably less in volume purchase. It's the lowest cost solution and easiest to implement to achieve complete 2°C-8°C temperature monitoring. Any other tool that does this job involves using a single-use digital data logger, which start at about US$10 per unit
This totally fits in with our company ethos of providing the easiest, simplest and most cost-effective products for temperature monitoring. Many 0°C or 2°C descending indicator on their own for instance normally costs at least US$2.50, so we know that our sub-US $4 price is very competitive.
How do you use Timestrip Complete?
It can be stored at room temperature, is inert until activated and has a button-like feature that needs to be pushed for activation.
There is an extra measure needed in storage to bear in mind— and this is industry-wide for all descending temperature indicators — is that they are always active.
This means they need to ship to end-users above the temperature they monitor and we achieve this by packing them with heat packs to ensure they never go below 2°C.
On the positive side from our clients point of view, because the ascending indicator can be stored at room temperature, they only need to ensure that our products are kept above freezing.
Similar products present the logistic difficulties of needing to be kept above 2°C and below 8°C, so this is a big advantage
Are there other Timestrip Complete products apart from 2°C-8°C?
Yes, this is a key range which we are looking to grow.  The product also comes as 0°C-8°C
Timestrip Complete 0°C - 8°C and 2°C - 8°C are also used for the storage and transportation of medicine and biologics.
We are now launching a Controlled Room Temperature indicator that has 15°C and 25°C thresholds. These are designed for environments such as food transportation for airlines.
The key message here though is that we have the technology to produce a variety of complete upper and lower level temperature monitoring — and at a very competitive price.
What's been the feedback so far from end-users of these complete temperature monitoring indicators?
Timestrip was involved in supporting anti-rabies work in Malawi with a 0°C-30°C indicator for the transportation and storage of canine vaccine. Rabies is huge problem in Malawi and spoilt vaccines seriously hamper efforts to address the situation.
The bottom line was that this 0°C-30°C product was successful in identifying those doses of canine vaccine that were either spoilt because of ambient heat exposure or from freezing caused by the ice-packs that are used during transportation.
This allowed for a re-stocking with unspoilt vaccines that ensured that the anti-rabies field teams' efforts were effective and thereby measurably supported the prevention of more cases of rabies in Malawi.
Time and Temperature Indicator maker Timestrip launches the Timestrip® Temperature app, a new tool that provides a visual audit trail of its temperature products.
Frame
Zoom
Focus
Snap
Using the App simply involves taking a photo of a Timestrip® label with a smartphone.
If the Timestrip® has a new style serial number, the App will recognise the serial number and allow you to register it on the system.
You can then take a follow on scan where you can enter its activation state (inert, activated or breached), storing this data with essential time and location information in the cloud.
If the Timestrip® has an old style serial number you can still use the app in the same way but you'll need to manually enter the serial number. The App is free to download from the Google Play store with an iOS version to follow shortly.
High tech low cost
The App is the latest innovation from Timestrip, which revolutionised the field of cold chain management with its unique Irreversible Time and Temperature Indicator labels (TTIs).
Recognised by the World Health Organisation and the US FDA as an essential tool for the cold chain management of blood and food products, TTIs provide data as to whether a blood or food product is safe to use. Timestrip's irreversible TTIs make this crucial safety information unambiguous and instantly visible.
Like having a hundred permanent digital data loggers
The main benefit of Timestrip's irreversible TTI labels is that they give essential cold chain management information on individual units of processed products. This deals with the main shortcoming of digital data loggers, which are mostly used for containers of transported and stored products.
Thanks to the new Timestrip® App, extra key information around cold chain management is added with the safe storage of status, time, journey and location data, which can be accessed at any time via the app or via a website. A digital data logger can be lost or damaged and all its data can be wiped clean. The Timestrip® App however safely stores this data in the Cloud.
Data logger functionality at a fraction of the price
Timestrip UK CEO Reuben Isbitsky says: "I am very excited about our first App, which brings Timestrip TTI labels very close to data logger functionality, at a fraction of the price.  While a key benefit of Timestrip products is that they do not need external infrastructure to read and interpret, using the optional Timestrip Temperature App to scan them, adds enhanced functionality, easy audit trail and provides the customer with a permanent record of the history of the product's journey."
DHL Global Forwarding opened it's purpose built temperature controlled warehouse to process pharmaceutical, biotech and medical devices in Chicago's O'Hare airport.
With 10,000 temperature controlled square feet situated in the world's busiest airport, businesses now have better ways to get their temperature controlled healthcare products all over the globe.
Whether your products are being flown internationally, or shipped overground locally, you need to be sure temperature breaches have not occurred in transit.
Temperature monitoring in pharmaceutical warehouses
Timestrip® has a line of temperature breach indicators that are small, easy-to-use, cost effective indicators that and provide auditable proof that your devices arrived safe to use.
Our Timestrip® Blood Temp 10 indicator is a single use ascending temperature breach indicator that can be applied directly to a blood bag, and will visually alert you to a 10°C breach of the blood bag's core temperature.
For all other temperature monitoring needs, our Timestrip® PLUS line monitors ascending temperature breaches in a variety of temperatures between -20°C and 30°C.
Timestrip is proud to announce the successful certification to ISO 13485:2003 Quality Management Standard for Medical Devices in addition to our recent recertification of ISO 9001:2008.
Recognised around the world, the ISO 13485:2003 registration is based on eight quality management principles. These include: customer focus, leadership, involvement of people, process approach, system approach to management, continual improvement, fact-based decision-making and mutually beneficial supplier relationships.
The certification of the Company's compliance with ISO 13485:2003 recognizes the policies, practices and procedures of our firm to ensure consistent quality in the products provided to our customers. With this certification, our medical and non-medical clients can be confident that Timestrip is dedicated to maintaining the highest efficiency and responsiveness achieving our ultimate goal – Guaranteed Customer Satisfaction.
Timestrip is certified as meeting the requirements of ISO:13485 for the following activities: DEVELOPMENT AND MANUFACTURING OF SMART LABELS FOR MEDICAL USE.
To maintain our certification, Timestrip will perform annual audits to ensure compliance and to assess initiatives for continued improvement. Our customers can be confident that Timestrip will continue to provide the high quality services they have come to expect well into the future.
We believe that our decision to become ISO 13485 Certified is a proactive one that not only anticipates the demands of our customers, but also demonstrates our commitment to providing quality services to all our customers in the medical industry. We strongly believe augmenting our certification offers our customers a "Best-in-Class" choice for smart labels.
The accreditation also supports our work in pharmaceutical categories, where a range of Timestrip products are used to identify temperature breaches in highly regulated cold chain environments. We are helping to protect patients and prevent unnecessary wastage of many drugs, vaccines and blood products, where the 2-8°C/46°F storage range is critical to so many products.
Timestrip indicators are leading the market in the provision of low-cost temperature indicators, as demonstrated by our blood bag temperature monitoring labels. In 2013 we launched the Timestrip Blood Temp 10 indicator, in response to the need to reduce wastage of precious blood stocks, discarded through uncertainty around temperature breaches incurred when bags are in use and removed from carefully controlled refrigeration storage units in blood banks.
In 2014, Timestrip UK Ltd announced it is working with Belgian Red Cross-Flanders to develop new blood temperature monitoring labels with a product development program looking to create optimal temperature monitoring labels for the blood collection, distribution and transfusion organisations operating within the Flanders catchment area.
Temperature monitoring labels based on the existing Timestrip Blood Temp 10 product are now being developed and reviewed in consultation with Belgian Red Cross-Flanders.
Also in 2014 we were proud to be the technology of choice for an innovative new product created to provide a wearable, low-cost vaccination reminder product for new-born children.
The Bill Gates Foundation funded Vaccine Reminder Band is currently undergoing field trials in Pakistan. Timestrip has a long history of innovation in the medical device sector and we now provide a range of products which act as invaluable visual aids to doctors, patients and healthcare workers.
For example in the UK, a number of NHS dispensing pharmacies are already using Timestrip® PLUS to monitor the cold chain for temperature-sensitive drugs such as Neulasta® and Total Paternal Nutrition ('TPN') products.
Timestrip is committed to quality assurance processes and procedures and we see the ISO 13485:2003 Quality Management Standard for Medical Devices accreditation as a natural progression of our work in the specialist markets in which we aim to excel.