Timestrip® has introduced new time indicators to support the storage and handling of coronavirus vaccine supplies. These smart single use indicators provide an irreversible alert if the vaccine is stored in refrigerated conditions (2-8°C) for too long after thawing from deep freeze storage.
In an early case example, now that the Pfizer / Biontech vaccine has been approved for UK use, attention has turned to the logistics of supplying it to huge numbers of people. Timestrip indicators can travel with the vaccine supply and withstand the coldest storage temperatures e.g. down to -70°C, yet react when the vaccine consignment is thawed.
From the Timestrip vaccine range, the VRM30 indicator shows the time that vaccines have been held in the chilled 2-8°C range, and has markers for 1, 5 days up to 30 days, making it a suitable solution for the management of many vaccines including from Pfizer, Moderna / J&J and AstraZeneca. VRM30 is designed to compensate automatically for changes in temperature, responding more quickly in warmer conditions.
When the vaccine has been removed from the fridge into room temperature ready to be administered, a VOR12 indicator can be deployed to alert logistics and healthcare professionals that an 8°C threshold has been breached.
It will show the duration for which the vaccine has been Out of Refrigerator, as the indicator window gradually fills. A completely full window indicates that the maximum allowed storage period has been reached, and the vaccine may be compromised.
The eTimestrip range of electronic indicators comprises single use devices that generate a report via a mobile app, and provide detailed information on time and temperature to responsible healthcare staff. This report can be sent for centralised storage, eliminating the need to return the device itself for data analysis.
Conventionally, data loggers can be used in these applications, but the scale of the current challenge means that Timestrip's small, robust indicators are a lower cost, practical solution, while supporting compliance with regulations.
We continue to innovate at a rapid pace to provide cost effective monitoring solutions, considering the efforts of the WHO, FDA and government bodies in their respective countries. Our main objective is supporting healthcare teams as they provide safe care to nations worldwide.

Nora Murphy, Commercial Director
Timestrip®, the developer of smart indicator technology, has released two new ranges designed to be used with the latest coronavirus vaccines now becoming available. The indicators track temperature and time, and will ensure that vaccines are fresh when administered to patients.
The Timestrip Vaccine Thaw Timer is an event thaw indicator with 24 hour time indication calibrated to run at fridge temperatures. It can be packed with vaccines that require storage at -70°C in the ultra-cold chain, and automatically starts monitoring as the vaccine is thawed and transferred to chilled conditions at the hospital or surgery. It then tracks the time from thaw at 6 hours, 12 hours and up to 24 hours, meeting the specifications for use from manufacturers such as Pfizer.
The Timestrip Vaccine Refrigeration Monitor range comprises three indicators. One is designed to indicate the thawing event of the vaccine; another will time 30 days duration in refrigerator conditions (2°C-8°C), helping the user to manage the vaccine manufacturer's guidelines for use.
Then, when the vaccine has been taken from the refrigerator and prepared for use, a third indicator monitors how long it has been exposed to temperatures above 8°C, typically at room temperature. The time 'run out' for the Vaccine Refrigeration Monitor VOR12 (Vaccine Out of Refrigerator) is up to 12 hours, with shorter times to an alert being seen at higher temperatures.
These Vaccine Refrigeration Monitor products will help overcome challenges in the handling of COVID-19 vaccines up to the point of administering, and are designed to support the manufacturers' specification for the handling of vaccines such as those from Moderna.
Both indicators provide a clear irreversible indication to healthcare staff that conditions of storage and handling have exceeded acceptable conditions, and that the vaccine consignment cannot be relied upon.
Based on safe chemical technology, both the Vaccine Thaw Timer and Vaccine Refrigeration Monitor range overcome the limitations of batteries used at ultra-low temperatures.
We continue to innovate our patented technology to bring the benefits to important applications such as vaccine distribution, supply and last mile handling. Using these indicators, healthcare professionals worldwide can be supported cost effectively, and guided through soon to be routine practices of handling and managing these vital resources.

Nora Murphy, Commercial Director of Timestrip.
Timestrip has recently added other products to its range in response to coronavirus. These include an indicator to monitor antiviral solutions, and Rapid Diagnostics 15, a 15 minute timer indicator for use with rapid turnaround lateral flow test kits.
Novel Indicators Support the Fight Against Coronavirus
Timestrip® , the developer of smart indicator technology, has moved fast to develop a range of products that support use of the coronavirus vaccines now promising to become available. Special liquid indicators have been created by Timestrip which can travel with the frozen vaccine supplies as they move from manufacture to the point of care, ensuring that any excess
temperature breach can be identified.
As one or more vaccines are planned for distribution, attention is focusing on the ultra-cold chain, as Covid-19 vaccines may need to be stored and transported at temperatures as low as -70C. Any breach of the specified temperature conditions is revealed by the new Timestrip smart labels with a clear irreversible indication.
After thawing, vaccines must be used quickly, usually within a few days, and Timestrip indicators are also available to monitor this critical period and alert medical staff to time expired product.
Antiviral treatments such as Gilead's VEKLURY® product have also to be kept cool, and then after dilution, can be stored for between one and two days - depending on the storage temperature - prior to administration.
Timestrip indicators are available to monitor these conditions and automatically adjust the time to expiry as conditions change.

Other applications now being made available are a range of indicators for virus specimens as they are sent for laboratory testing. The Virus Specimen Transport (VST) series of indicators includes a time / temperature indicator (TTI) that mirrors the response of the virus specimens, and can alert healthcare organisations to compromised samples.
In yet another initiative, Timestrip has introduced 'Rapid Diagnostics 15', a short term time indicator designed for use with the new rapid turnaround lateral flow test kits now being rolled out more widely.
As market leaders in the time and temperate indicator sector, we must play our part and support the great work being carried out during the pandemic. We are working to develop cost effective, bespoke solutions to support the regulatory bodies in their efforts to deliver product safely through the cold and ultra-cold supply chains.

Nora Murphy, Commercial Director of Timestrip
Timestrip has a new white paper detailing the importance of monitoring time and temperature parameters during storing and transporting to point of care
For more information on how Timestrip UK Ltd is handling the COVID-19 pandemic, please see this post.
Timestrip®, the developer of smart indicator technology, has developed an important new range of indicators to help healthcare professionals meet WHO guidelines in the handling of virus specimens.
The Timestrip Virus Specimen Transport (VST) series has been specially formulated to provide a clear indication when key temperature levels are exceeded.
These indicators monitor when specimens - including coronavirus – have been stored for too long and outside the required temperature range for reliable testing.
Four products make up the VST range.
Together they form an essential tool to support hospitals, surgeries and medical laboratories in storing and transporting virus specimens correctly, and preserving their integrity.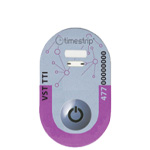 A virus specimen's exposure to temperature over time is critical to its lifetime, so the VST series includes a unique integrating indicator, the Timestrip VST TTI, which mirrors the accumulated time-temperature history of the virus specimen during transport and storage.
Virology specimen collection guidelines state that most viruses remain stable at 4°C for 2-3 days, so VST TTI is effective with a wide range of virus types.
Designed to meet specific regulations, the TTI label will indicate when 72 hours of chilled storage has elapsed by showing a clear visual discard window. At high temperatures, the label will show the discard indication within just a few hours.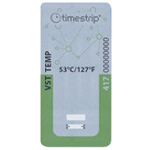 Scientists and clinicians know that bacteria and viruses deteriorate much more quickly as temperatures increase, and also as exposure time increases. For example, at 50-55°C, coronavirus becomes non-infectious within just a few hours.
The VST range of indicators includes a product specifically for monitoring temperatures exceeding 53°C.
FDA and WHO regulations state that it is important to avoid freezing and thawing of specimens.
The Timestrip VST 0°C will reliably track a thawing event. If the ambient temperature rises above freezing, the indicator will show the cumulative period of thawing.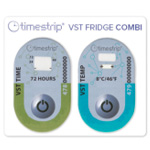 Timestrip VST Fridge Combi includes two indicators. One unique element indicates when a period of 72 hours has passed during chilled conditions (2-8°C), aligning with FDA / WHO regulations.
The other element provides a temperature breach indication, giving a clear signal when conditions have exceeded the regulated upper chilled limit of 8°C/46°F during storage or transport.
"As part of the fight against coronavirus, our new VST virus specimen transport range will help support scientists by monitoring specimens from collection right through to point of test, giving confidence in the integrity of the specimen, and thus the test results.

These simple yet effective products provide a solution to a real problem in the storage and handling of virus specimens, including Covid-19. Medics and laboratory technicians can now have an explicit signal when specimens have breached the safe zone of thermal exposure and are invalid for testing."

Nora Murphy, Commercial Director of Timestrip UK Ltd
The VST is expected to be the first of many speciality ranges to be offered by Timestrip that provide practical solutions for pathology, microbiology, mycobacteria and other laboratory specimen handling, where temperature and time monitoring are required.
The new Virus Specimen Transport products are available now from Timestrip.

for release 11th June 2020
As part of the measures to control the spread of coronavirus, many organisations, from hospitals to care homes, are tightening up procedures that involve touching surfaces.
From hospital curtains to pharmaceutical carts to floors, sanitation protocols need strict adherence to prevent contamination more than ever.
In response to this risk, sanitisers and sterilization products such as wipes and solutions are increasingly being put to use. As far as current medical knowledge knows, the virus is very sensitive to the cleaning and disinfecting agents currently in use.
The US Environmental Protection Agency (EPA) has determined that 'enveloped' viruses such as COVID-19 are the easiest type to inactivate using disinfectants.1
A spokesperson for the American Hospital Association says that while frequent cleaning is standard, hospitals are giving special attention to "high-touch surfaces such as in-room phones, TV/nurse calls, light switches and cords, handles, drawer pulls, bed rails, tray tables and bathroom fixtures."2
However, sterilizing solutions will only achieve maximum efficacy while still fresh. They must be used within a specified period after being opened and have a limited shelf life.
Timestrip time indicators can be a valuable part of the infection control processes here, and a range of standard products is available.
Timestrip Time indicators are a visual alert that a disinfectant is out of date
Timestrip has a wide range of time monitoring indicators for hospitals in stock for quick ordering and shipment.
For monitoring the shelf life of proprietary sterilisers, our stock 1 and 2 year Timestrip Time indicators are available.
Disinfectant solutions such as medical device sterilizers, dental disinfectants and hospital waterline disinfectants can have shorter shelf lives after preparation.
Timestrip Time 7 Day indicators are a stocked solution that has time markers for 1, 3 and 7 days.
Custom Healthcare Disinfectant Solutions
Timestrip custom solutions are available for specific time or temperature monitoring requirements. We design and manufacture solutions to suit your procedure, product or brand.
For stock (or custom) indicators, custom backing cards can be designed.
They can communicate to hospital workers on sanitisation procedures, give a place to securely attach indicators and and can be kept for validation of protocol.
Shorter time indicators monitor sterilization procedures with critical time components. For example, hospital grade disinfectants with a 1, 3, 5 or 10 minute wait time for max efficacy.
Custom designed time indicators can provide confirmation that an area has been adequately sterilized with markers for 3, 5 and 10 minutes.
Prepared solutions might have specialised shelf life monitoring times.
We can design a Time indicator with monitoring time from a few minutes to 2 years and even include multiple times within that range. Timestrip liquid-based and electronic indicators are ideal as cleaning reminders.
Contact us to get your hospital disinfection time monitoring solution today.
1 Infection Control Today "Surface Disinfection When Fighting COVID-19"
2 NPR "Ships, Planes And Other Spots Are Getting A 'Deep Clean.' What's That Mean?" link
The coronavirus pandemic has led to greatly increased demand for personal protective equipment (PPE). Agencies around the world have been hurriedly shipping any available supplies to healthcare centres, comprising millions of units.
Regrettably, healthcare workers are reporting that some of these supplies are past their stated expiration dates, potentially rendering them unusable for critical procedures such as surgery.
This scenario is a dramatic example of the importance of implementing clear and easy to use indicators to allow monitoring of medical supplies against their designed lifetime, thus ensuring complete efficacy.
Products with finite lifetimes include face mask filters, cannulas and IV feeds, as well as many chemicals such as hand sanitisers.
The Timestrip range of time monitoring indicators includes standard products for 1 year and 2 year periods as well as shorter ones. Bespoke indicators can be produced for other periods.
While the shipping and even the use of time expired medical supplies is understandable in the current public health emergency, healthcare authorities planning their procurement systems have the opportunity to ensure the safe restocking of supplies going forward.
At Timestrip, we are committed to doing all we can to help so please just let us know.
See more about Timestrip healthcare applications >>
An FDA-approved Irreversible Time and Temperature Indicator that ensures that only viable whole blood supplies are used post-transit
The high tech, low cost alternative to electronic dataloggers
Delivery of unambiguous safety data
FDA approved
Ease of use
Lower costs
Less wastage
Low carbon footprint
A critical issue for medical professionals is ensuring the viability of blood supplies once they leave the highly controlled storage environment, such as a blood bank refrigerator or a hospital blood storage facility. This aspect of the so-called blood cold chain is essential for ensuring that these are kept at the correct temperature right up to the time they are administered by trauma units, ERs, operating theatre staff, air/ ground ambulances, and any other situation requiring blood to be transported from storage units out to patients.
During transit, whole blood needs to be kept within a temperature range of 2°C/36OF to 10°C/50°F. Below this range, there is a risk of freezing with the formation of ice crystals, rendering the blood unusable, while upper temperature breaches create the possibility of blood being affected by an overgrowth of non-specific bacteria, which may have entered the blood unit during collection or component preparation.
Both these situations have serious consequences: the cost implications of a wasted product and/or more seriously, a patient that is put at risk.
To address these issues, Timestrip® has developed its single-use Blood Temp 10 – a high-tech, low cost Irreversible Time & Temperature Indicator that effectively monitors temperature breaches above 10°C/50°F during transit.

No more guesswork
Thanks to its innovative technology, Timestrip® Blood Temp 10 removes this uncertainty by providing clear, unambiguous data as to whether a supply of whole blood is safe to use or be returned to storage.
This is achieved thanks to the smart label's two indicator windows:
• the first window to indicate if the label has been activated
• the second to indicate if a temperature breach has occurred
Thus, at a glance, medical staff know if a supply of whole blood is not only safe to use post-transit. The smart label also ensures a higher level of quality of the product is delivered by monitoring of temperature throughout transit.
Moreover, thanks to its irreversible feature, once the smart label has reacted to a temperature breach, this cannot be undone. For security reasons, the colour of the label's indicator window stays permanently changed.
FDA approved … and more
Timestrip® Blood Temp 10 has FDA certification (FDA 510(k) #BK190363) and is manufactured with controls established by a IQC approved quality management system that conforms with ISO 9001:2015 and ISO 13485:2016.
With a temperature accuracy of +/- 0.5°C, this means that the Timestrip® label is designed with reliable and, more importantly, trustworthy technology as assessed by some of the world's most stringent criteria. Moreover, extra security is assured by every Timestrip® label having its own unique serial number, thus ensuring full traceability.
Checking this list of features brings further benefits to healthcare providers involved in the transportation of whole blood by also ticking the box for local and internal regulatory compliance.

Cost savings
Because Timestrip® Blood Temp 10 ensures that only viable blood supplies are either administered post-transit, or returned to storage, the possibility of precautionary disposal is eliminated. This reduction in waste can have significant cost benefits.
In fact, studies have shown that loss rates without a Timestrip® are around 5%. These are halved with its use. In fact, reducing a loss rate by 9.9% pays for the total investment and a conservative 19.8% reduction doubles the ROI.
The generation of similar positive temperature monitoring outcomes are possible using other products, such as electronic devices. These, however, are far costlier.
Ease of use
Apart from delivering clear, unambiguous data as to whether post-transit a unit of whole blood may be used or returned to storage thanks its innovative indicator windows, the Timestrip® Blood Temp 10 is also remarkably easy to use.
In fact, unlike other whole blood temperature monitoring solutions on the market, Timestrip® Blood Temp 10 is a unique FDA 510(k) medical device that does not require preconditioning. Moreover, it is also CE approved and designed for:
• quick and easy application
• no prior conditioning by blood storage staff
• temperature breach data delivered at a glance by medical field personnel.
Prior to the transit of a unit of whole blood, a simple squeeze of the label's activation blister is all that is required for temperature monitoring of a unit of whole blood to begin. Then the label just needs to stuck on the unit.
Squeeze, peel and stick – that's it!
And the end of transit, Timestrip® technology has also been designed for maximum ease of use:
• until activation, the first indicator window is yellow and the second is white
• upon activation, the first indicator window turns green
• if a temperature breach has occurred during transit, the duration of the breach is indicated by the second white indicator window that proportionately fills up with blue dye
Product Specifications
10°C/50°F monitoring
Irreversible, single use
19mm x 32mm
Field activation
Visual proof of temperature exposure
Advantages over electronic dataloggers
Beyond being less expensive, Timestrip® Blood Temp 10 does not involve a datalogger's complicated and sometimes cumbersome unit return program that is necessary to make it more affordable. The smart label's single use indicator makes it the ideal fit for simple, straightforward and effective temperature monitoring.
The Timestrip® also is a super convenient shape: small, flat, with no batteries or any other electronic components to them.
For green credentials, the Timestrip® also outstrips traditional dataloggers in terms of carbon footprint, because the latter eventually needs to be either be thrown away or sent back to source to justify the expenditure.
Lastly, the Timestrip® has the potential of generating more accurate safety data. Indeed, because a container of units of whole blood will tend to use just a single datalogger, inevitably the temperature of ambient air within the container is taken into account, potentially generating less than accurate safety data.
With Timestrip® labels however, every single unit has its own temperature indicator. This means that the possibility of rejecting an entire shipment based on a single result is eliminated.
Whether in a major teaching hospital, a walk-in clinic or a doctor's surgery, any type of healthcare boils down to two broad objectives: improved patient outcomes and the best possible use of resources.
Although historically reconciling patient health and the harsh realities of budgetary constraints have at times led to difficult choices, the fact is that by integrating technology and innovation into decision making around resource allocation, both objectives can be achieved at the same time.
Indeed, thanks to its high tech / low cost Time and Temperature Indicator labels, Timestrip® is able to provide healthcare providers and the pharmaceutical sector with a broad range of practical, user-friendly solutions that:
✔ Ensure product quality
✔ Reduce product waste
✔ Ensure regulatory compliance
✔ Reduce time and temperature monitoring costs
But what does this look like in practice?
Improving quality control and efficiency
Tenet Healthcare is US healthcare provider that faced the challenge of needing to effectively manage how it processed bags of whole blood. On the one hand, it faced the need to comply with local regulatory requirements related to the use of effective temperature monitoring for blood products; and on the other, it had to discard any bag of blood that had been exposed to a temperature above 10°C for more than 30 minutes.
The company needed to be absolutely certain that any unused bag of whole blood was 100% safe to be returned to storage for future use. It had also noted ongoing difficulties in using other blood temperature indicators. Potentially, the latter could lead to doubts about product safety, which in turn would require that bag of blood to be discarded, possibly unnecessarily.
Its use of Timestrip® Blood Temp 10 – 10°C Blood Irreversible Transit Temperature Indicator noted the following advantages:
✔ Improved quality of care
✔ Improved workflow efficiency
✔ Maintenance of quality control during transportation and storage
✔ Support in complying with regulatory guidelines
Cost-effective regulatory compliance
Marathon Distributors is a pharmaceutical and healthcare logistics services provider in Cyprus and is involved in the distribution of pharmaceutical products throughout the island. The main cold chain management issue it faced was around compliance with local and EU regulations, specifically the country's Law on Human Pharmaceuticals 70(I) 2001 and the EU guidelines on Good Distribution & Manufacturing Practices. These mandated the company to ensure that the pharmaceuticals it delivered were not exposed to a temperature above 8°C for more than 8 hours during transportation.
Although other products helped achieve regulatory compliance, the company began using Timestrip® PLUS™ 8°C 8 Hrs (TP065) Irreversible Time and Temperature Indicators because they were much more competitively priced.
Overall the company reported:
✔ Timestrip Indicators were 50% cheaper
✔ Delivery costs were 50% lower
✔ Delivery times were faster
✔ Positive end-user feedback around ease of use
Easy temperature monitoring for vaccine transport
Cambridgeshire Community Service NHS Trust is a UK healthcare provider in south-east England. Part of its work is the delivery of school-age immunisations to schools in its area. This includes for instance flu nasal immunisations for primary schools and HPV vaccinations and Meningitis ACWY and TdIPV for secondary schools.
For the delivery of vaccines, electric Labcold Portable Vaccine Carriers and pharmaceutical-grade vaccine carriers are used. In order to maintain the efficacy of the various transported vaccines, two different temperature ranges need to be managed: 2°C to 8°C and -25°C to 25°C.
In order to ensure the delivery of viable, unspoiled vaccines, the Trust thus had a requirement for a dual, low-cost solution for use by its delivery teams.
To achieve this, two Timestrip products have been used in each vaccine carrier:
● a Timestrip® PLUS (TP 065) to indicate if the temperature went above 8°C
● a Timestrip® PLUS (TP 217) to indicate if the temperature exceeded 25°C, and if so, for how long
The feedback from the delivery teams has been extremely positive, specifically around:
✔ Easy to read visual data
✔ Ease of use
✔ Reliability
Reliable test kit time data
Clinical Innovations is a US maker of obstetrics devices that wanted to develop a non-invasive test kit for the diagnosis of any rupture of membranes (ROM). Although treatable, spontaneous ROM is a serious medical condition and a major cause of preterm births. Thus, an accurate diagnosis of ROM can be a key factor in determining timely and appropriate medical intervention. Similarly, a false diagnosis of ROM can lead to unnecessary hospitalisation, medication and even induced premature delivery.
Timestrip was able to provide Clinical Innovations with Time Indicators for its ROM Plus® self-contained test kit. These give clinicians the essential and immediate data they need to reduce the dangers of any premature ROM for expectant mothers and their babies.
The test kit uses Timestrip technology with an in-built 20-minute time monitoring indicator that generates the required data within 5-20 minutes, with 5,10 and 20 minutes clearly indicated on the Timestrip. Its key benefits are:
✔ Clear visual data
✔ Ease of use
✔ Improved health outcomes
Hygienic healthcare environment
Beyond pharmaceuticals and blood products, healthcare also involves various types of disposable items that need replacing regularly. Especially for the sick, hygiene in the clinical environment is an essential aspect of patients being able to make a full recovery. Timestrip indicators make excellent cleaning reminders for surfaces, filters and instruments.
Assuming the absence of any complications, catheters for instance need to be replaced every 30 days for Foley catheters and every 60-90 days for silicone catheters. Catheter bags however need to be replaced every 5-7 days. If these items are not replaced at appropriate intervals, opportunities are created for harmful pathogens to develop.
Unsurprisingly, this has also been shown to be the case for hospital privacy curtains. Dr Kevin Shek was the lead study author into the rate of contamination of hospital privacy curtains in a burns/plastic ward. In a report about the study findings in Nursing Times, he said:
"We know that privacy curtains pose a high risk for cross-contamination because they are frequently touched but infrequently changed. The high rate of contamination that we saw by the fourteenth day may represent an opportune time to intervene, either by cleaning or replacing the curtains."
Especially in busy hospital departments such as Accident & Emergency and ICU, hospital privacy curtains can quickly become contaminated with bacteria such as methicillin-resistant S. aureus (MRSA) and Clostridium difficile (C. diff). Thanks to Timestrip® Time Monitoring Indicator panels that change color after a set period of time, clinical staff are alerted when a privacy curtain needs to be changed. They help a hospital achieve:
✔ Best use of resources with a low-cost solution
✔ Compliance with guidelines around frequency of change
✔ Less time needed to monitor when that change needs to occur
✔ Hygienically clean hospital environment for patients
Using a Chemical Time and Temperature Label
There are many ways to measure temperature change and for recording how long a temperature-controlled substance, material, or chemical compound, is maintained outside of its normal required temperature limits for stability, or future use. Time Out is not a new term, or monitoring application, but it is a complex one and certainly needed. The most common is for Pre-Preg and Carbon Fiber materials that must be maintained within strict temperature guidelines for flexibility and strength requirements, plus many Chemical compounds and liquid API's (Active Pharmaceutical Ingredients). These strict limits also apply to certain bio-logics and vaccines that can only be "out-of-environment" for short periods of time whilst they are being worked with, formulated, or packaged.
These tracking solutions range from RFID tracking and monitoring with expensive tags and readers to complex solution software applications that read and record these expensive electronic devices, attached to the item being monitored, as these pass in and out of the safe temperature zones.
On the low-end monitoring is done by timers with alarms and some form of temperature recorder to show the temperature limits that the materials were exposed to. Combine both elements and you get a Time and Temperature limit that the materials were within showing how long this was for.
But in some applications, simplicity may be a better solution like – a time and temperature breach indicator label, instead of reading separate items and manually recording these for record purposes.
Timestrip Plus labels and Run Timer Labels are used for many applications ranging from monitoring event times related to an expiration of effect use life to monitoring vaccine and bio' shipments as these pass through a logistics operation, or down the cold chain supply chain. However, if you take a Timestrip Plus label that contains a time element and a temperature limit indicator for an excursion, or the work environment temperature, you have a truly unique and simple way of measuring TOTCE!
The advantage that these labels offer is quite simple by the fact that once the label is outside of its "strike" temperature the chemical will flow down the time indicator scale to show how long the label is outside of the lower product stability-controlled temperature environment. When the material or chemical substance with the label attached is returned to the temperature-controlled environment the chemical will stop flowing and only now show the "Out-Time". If this item is taken in and out many times the label will begin to form a total aggregated TOTCE as the chemical flows and stops each time it moves in and out of the two environments.
A record of each individual "Out-Time" can be captured by taking a photo with a Smart Phone which will show the time and date that it was taken, and this can be stored as a permanent record linked to the serial number on the label itself that will be clearly seen in the photograph.
Sometimes simple is the best approach based upon the old adage of the "KISS" philosophy, so contact Timestrip today if you want to find out more about this TOTCE solution offering.